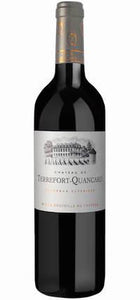 Chateau Terrefort Quancard
Château Terrefort-Quancard is the main property of Cheval Quancard, the famous Bordelais trading house. For this red wine, after the mash fermentation in thermo-regulated concrete tanks, it is aged in oak barrels. The result is a particularly powerful, yet elegant and fine-fruity red wine.
Technical data
Country of origin: France
Region of origin: Bordeaux
Wine type: Red wine
Flavor: dry
Quality level: AOC
Fragrance: after candied fruit, spices and plums with notes reminiscent of forest floor
Taste: full in the mouth and with a certain fat, powerful, yet elegant and fine-fruity, round tannins, lasting, good length
Food recommendation: with lamb fillet in bread dough, beef fillet or game
Grape varieties: 64% Merlot, 36% Cabernet Sauvignon
Serving temperature: 18 ° C
Recommended storage: 3 - 10 years
Content: 750 ml
Companies: Mis en bouteille par la Maison Cheval Quancard a 33560-Carbon Blanc, France
Residual sugar: 1.6 g / l
Total acidity: 3.5 g / l
Free SO2: 28.0 mg / l
Total SO2: 67.0 mg / l
Total extract without sugar: 22.6 g / l
Alcohol content: 13.0% vol.
Contains sulfites: Yes