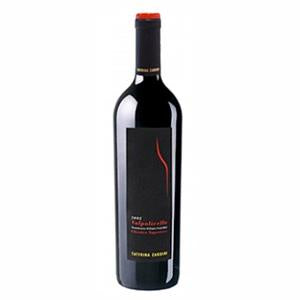 Valpolicella Catarina Zardini
The Caterina Zardini Valpolicella is one of the Campagnola top wines. Produced only from the best grapes from the hills above Lake Garda, it presents itself seductively fruity and velvety soft, but also has a good portion of breed and spice, as well as a length that is second to none. The grapes for this wine come from selected 36 hectares of vines from the Marano area. The vines grow on the terraced slopes with south-west orientation and calcareous soils. After strict selection, the grapes are processed using the latest cellar technology. Then they mature for several months in Slovak or French oak barrels. The boss then selects only the best from these barrels for his Valpolicella "Caterina Zardini".
Technical data
Country of origin: Italy
Region of origin: Veneto
Vintage: 2017
Wine type: Red wine
Flavor: dry
Quality level: DOC
Yield per hectare: 55 St.
Fragrance: spicy bouquet with vegetal notes and notes of cherries, almonds and tobacco
Taste: This wine is strong and round. The aromas are present and combine to form a long and very pleasant finish.
Food recommendation: fine with calf's liver
Grape varieties: 70% Corvina & Corvinone, 30% Rondinella
Serving temperature: 16-18° C
Recommended storage: 5-10 years
Content: 750 ml
Companies: Messo in bottiglia nelle proprie cantine in Marano Valpolicella da Giuseppe Camagnola - Italia
Residual sugar: 6.0 g / l
Total acidity: 5.7 g / l
Free SO2: 30.0 mg / l
Total SO2: 90.0 mg / l
Total extract without sugar: 27.5 g/l
Alcohol content: 14.0% ​​vol.
Contains sulfites: Yes