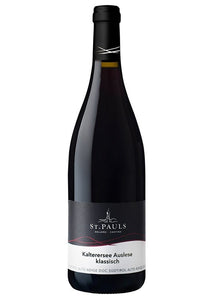 St. Pauls Kalterer See Auslese DOC
Light-colored and light red wine from the Vernatsch grape. The area around the beautiful Lake Kaltern is particularly known for this wonderful drinking wine. The Pergola shapes the face of the vineyards in South Tyrol, it is the trademark. The most expensive way of growing vines in the world has always proven itself in South Tyrol. Arbor-like scaffolding made of lots of wood and wire gives the young shoots a hold and ensures that a favorable mini-climate is created under the leafy forest. This prevents the soil from drying out too much in the heat and an almost constant moisture, air and temperature ratio is maintained for the ripening of the grapes.
Technical data
Country of origin: Italy
Region of origin: South-Tyrol
Vintage: 2018
Wine type: red wine
Flavor: dry
Quality level: DOC
Yield per hectare: 77 St.
Aroma: fruity, fresh and lively, harmonious
Taste: mild, rounded, light bitter almond tone, a real treat for the palate
Food recommendation: Starters, white meat, mild cheese, pasta dishes, filled pies
Grape varieties: 100% Vernatsch (Italian Schiava)
Serving temperature: 13 - 15 ° C
Recommended storage: 4 years
Content: 750 ml
Residual sugar: 1.60 g / l
Total acidity: 4.80 g / l
Free SO2: 40.0 mg / l
Total SO2: 95.00 mg / l
Total extract without sugar: 23.90
Alcohol content: 12.5% vol.
Contains sulfites: Yes