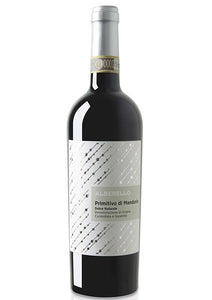 Feudi Alberello Primitivo di Manduria
Since 2011, Primitivo di Manduria with residual sweetness can be raised to DOCG status. The basis for this special wine is the Appassimento process - drying the grapes on the stick or on devices. Due to the loss of water, the grape juice and the flavorings it contains are concentrated. The wine gains complexity, a strong body and a distinctive fruit with hints of licorice, dried fruit and figs.
Growing area
The Apulia wine-growing region is located in south-east Italy, between the Adriatic and Ionian seas. The fertile plains of Puglia and the warm, dry climate in summer allow the cultivation of wine. The region has a wine-growing area of ​​over 100,000 hectares and produces around 7.5 million hectoliters of wine a year. The climatic conditions produce rich red wines from the Sangiovese, Primitivo and Negroamaro varieties.
Winery
The Varvaglione Vigne e Vini winery is located in Leporano, in the province of Taranto. Favored by climatic conditions, Greek settlers established winegrowing in this region. The third generation runs the estate from Cosimo and Maria Teresa Varvaglione. The owners combine traditional and modern cellar techniques to produce the best quality wines. Cosimo Varvaglione devotes itself meticulously to the indigenous Negroamaro and Primitivo grape varieties and invests a lot of time in the care of the vineyard and wine-growing in the cellar. His efforts are rewarded. The winery is steadily gaining international renown - this has not escaped the tasters of the Gambero Rosso. The annual evaluations are inevitable.
Technical data
Country of origin: Italy
Region of origin: Puglia
Vintage: 2018
Wine type: Red wine
Quality level: DOCG
Fragrance: Aromas of cherries, ripe plums and black currant.
Taste: A harmonious wine. The soft tannins and the powerful and long-lasting finish on the palate make this wine an experience.
Food recommendation: to go with almond biscuits and aged cheese.
Serving temperature: 16-18 ° C
Recommended storage: 6 years
Content: 750 ml
Companies: Feudi Salentini Via Amendola, 36 - 74020 Leporano, Italia
Residual sugar: 67.0 g / l
Total acidity: 5.7 g / l
Alcohol content: 15.0 + 4% vol.
Contains sulfites: Yes
Other allergens: Albumin from egg and/or casein from milk