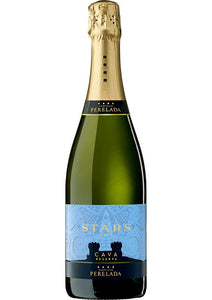 Castillo Perelada Cava Brut Reserva Stars
Fine Spanish cava that is produced using the classic bottle fermentation process. Cava Reserva is one of the most popular sparkling wines in all of Spain and this type of sparkling wine is also very popular with our customers. No wonder, since it offers a fine interplay of great clarity, finesse and fine fruit with lively perlage.
Country of origin: Spain
Region of origin: Costa Brava
Wine type: Cava
Quality level: Reserva
Yield per hectare: 65 h
Aroma: very elegant, slightly brioche and yeast-like scent of citrus and flowers with herbal notes
Taste: elegant and fine yeast in the mouth, perfect perlage, delicately fruity, light brioche notes, very animating and clear, long reverberation
Food recommendation: ideal as an aperitif, with shellfish or light starters
Grape varieties: 40% Macabeo, 30% Parellada, 30% Xarello
Serving temperature: 6 - 8 ° C
Recommended storage: 1 - 2 years
Content: 750 ml
Residual sugar: 8.0 g / l
Alcohol content: 11.5% vol.
Contains sulfites: Yes