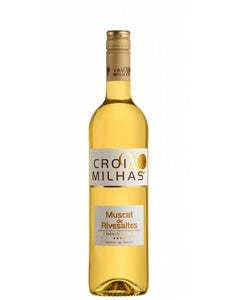 Croix Milhas Muscat de Rivesaltes 15.5% vol
The grapes are picked overripe with an alcohol content of 15% u. then processed for a day in the skin-like mash fermentation at low temperature. Then they ferment for two weeks until the natural alcohol content reaches 15.5%. The fine distillation is mixed at 96% to stop the fermentation and maintain the natural sweetness at 100 g per liter.
Technical data
Country of origin: France
Region of origin: Roussillion
Wine type: White wine
Flavor: sweet
Quality level: AOC
Fragrance: sweet and exotic fruit
Taste: Rich and full with an exotic, fruity note: grapefruit, papaya and mango. The sweetness is complemented by the intensity and power of this dessert wine.
Food recommendation: with all desserts and desserts, with blue cheese, poultry or pork in sweet or sour sauce
Serving temperature: 8-10 ° C
Recommended storage: 5 years and more
Content: 750 ml
Companies: Mis en bouteille par vignerons catalans A 66000 Perpignan - France
Residual sugar: 100.0 g / l
Total acidity: 6.0 g / l
Free SO2: 5.0 mg / l
Total SO2: 125.0 mg / l
Alcohol content: 15.5% vol.
Contains sulfites: Yes