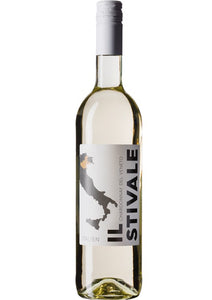 Il Stivale Chardonnay 11.5% vol
Straw yellow with green reflections in the glass, aromatic, natural and fresh on the nose and on the palate.
This gorgeous Chardonnay was bottled for you by us at vomFASS.
Technical data
Country of origin: Italy
Region of origin: Veneto
Type of wine: White wine
Flavor: Dry
Quality level: IGP
Nose: Aromatic, natural and fresh
Palate: Pleasantly dry with a perfectly balanced acidity
Serving suggestions: With appetizers, summer soups and fish dishes
Maturity: from now on
Grapes: Chardonnay
Serving: 8-10 ° C
Store: 2 years
Content: 750 ml
Residual sugar: 4 g / l
Total acidity:  5.6 g / l
Free SO2:  50 mg / l
Total SO2: 156 mg / l
Total extract without sugar: 18.5 g / l
Alcohol content: 11.5% Vol.
Contains sulfites: Yes