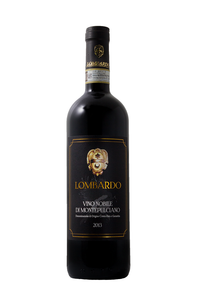 Lombardo Vino Nobile di Montepulciano DOCG
Classic Vino Nobile from the family winery Lombardo. Fine, elegant fruit, delicate acid bite and seductive fruit make this wine so irresistible.
Technical data
Country of origin: Italy
Region of origin: Tuscany
Vintage: 2015
Wine type: Red wine
Quality level: DOCG
Yield per hectare: 45 h
Fragrance: elegant violet scent
Taste: fine, harmoniously integrated tannins, full-bodied and full of character
Food recommendation: ideal for roasts, game and dishes with dark meat
Grape varieties: 100% sangiovese
Serving temperature: 18 ° C
Recommended storage: 6 - 7 years
Content: 750 ml
Companies: Imbottigliato all`origine da Az.Agricola Lombardo di Eridi Lombardo sa Montepulciano - Italia
Residual sugar: 1.4 g / l
Total acidity: 5.9 g / l
Free SO2: 15.5 mg / l
Total SO2: 67.6 mg / l
Total extract without sugar: 28.3 g / l
Alcohol content: 14.5% vol.
Contains sulfites: Yes