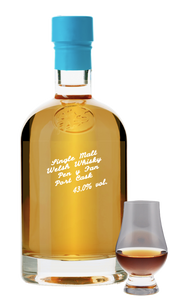 Penderyn Pen y Fan, Welsh Single Malt Whisky Ruby Port Pipes, 43%vol
This whisky is a special batch of fine single malt produced by Penderyn Distillery and is made exclusively for vomFASS. The name "Pen y Fan" is named after the mountains and the highest peak in South Wales. The whisky is matured exclusively in port pipes that are no older than three years and therefore offers and intense and great aroma - which you can taste! Honey and dried figs in the nose, sweet on the palate with pleasant wood notes from ruby port pipes, and yet with a certain freshness..
Origin: Wales, United Kingdom
Cask: Ruby Port Pipes
Alcohol Content: 43% Vol.
Awards: DLG Silver
No chill filtration & no coloring has been applied.