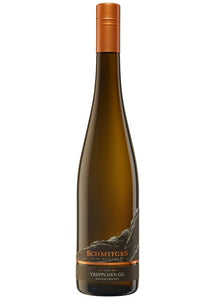 The Schmitges winery looks back on a long history - first mentions can be found in 1744. Even without a chateau and blue blood, but thanks to quality, inventiveness and innovations, down-to-earthness, honest work, fast service and fair prices, the winery has stood out in recent years established. The Schmitges family decided with full conviction and passion to grow wine in this unique cultural landscape, because the very special combination of different slate soils and different slopes is exactly what makes the Moselle wines unique.
Country of origin: Germany
Region of origin: Moselle
Vintage: 2018
Wine type: White wine
Flavor: dry
Quality level: Quality wine
Aroma: expressive and elegant
Palate: mineral with a lot of pressure on the palate
Food recommendation: A very delicately fruity and finesse-rich Riesling goes very well with seafood, antipasti and poultry.
Drinkability: from now on
Grape varieties: 100% Riesling
Serving temperature: 10 - 12 ° C
Storage recommendation: until 2030+
Content: 750 ml
Residual sugar: 6.5 g / l Total acid: 7.0 g / l Alcohol content: 13.0% vol. Contains sulfites: Yes