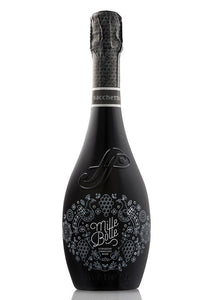 Spumante extra dry Millesimato Mille Bolle 11%vol
The "Charmat" method gives the Prosecco a natural foam, which brings the fruity note and freshness to its best advantage. The starting wine, to which sugar and selected yeasts are added, is further fermented in a controlled temperature autoclave until a carbon dioxide pressure of 2.5 bar at 20 ° C is reached. That the maximum pressure allowed by EC directives.
Technical data
Country of origin: Italy
Region of origin: Veneto
Type of wine: Sparkling wine
Nose: Fresh with fruity aromas of pears and green apples
Palate: Gently tingling and pleasing in the taste with restrained acidity
Serving suggestions: An excellent aperitif but also to a vegetable risotto, pasta and fish dishes
Serving: 8 ° C
Store: 2 - 3 years
Content: 750 ml
Residual sugar: 15.0 g / l
Total acidity: 5.8 g / l
Alcohol content: 11.0% Vol. 
Contains sulfites: Yes