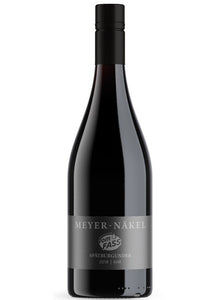 The steep, south-facing vineyards offer optimal exposure to the sun. The valley, protected by the Eifel mountains, heats up quickly and offers the vines an ideal habitat. Dörte and Meike Näkel continue the family business in the 5th generation. They conjure up top-class wines that are unmistakable from many and laboriously managed small terraces.
Country of origin: Germany
Vintage: 2018
Wine type: red wine
Flavor: dry
Taste: The nose is characterized by an interplay of cherries, blackberries and strawberries. Subtle elderberry and
Food recommendation: Braised game fowl, brie, camembert
Drinking time: rom now on
Grape varieties: Pinot Noir
Serving temperature: 16-18 ° C
Storage recommendation: by 2025
Content: 750 ml
Companies: Bottler Weinhaus Werner Näkel D-53507 Dernau
Residual sugar: 2.4 g / l
Total acid: 4.7 g / l
Alcohol content: 13.0% vol.
Contains sulfites: Yes